The Birth Of The Red Tiger
By their own admission, Red Tiger Gaming live and breathe casino slots. It's the reason its developers get out of bed in the morning and it's the focus of their energy and strategy. Like all enterprising iGaming developers, RTG's employees aren't merely limited to a core of talented programmers.
Modern gaming calls for a unified approach, one that brings together experts from across a range of disciplines. RTG's ever-expanding team includes psychologists, mathematicians, graphic designer, audio engineer, account managers and of course software developers. It also professes to possess a band of secret magicians, but you may wish to take that claim with a pinch of salt.
Games Worth Playing From Red Tiger Gaming
Red Tiger Gaming's loyalties are to the casinos its partnered with first and foremost, but that doesn't mean the needs of the players take a back seat. Far from it, the company is well-aware that increasing player retention is the key to maximizing casino profits. The firm's crack team of game theorist, psychologists and mathematicians are focused on perfecting what they refer to as the science of fun. Its an art they've invested substantial time and resources in, by all accounts its yielding dividends.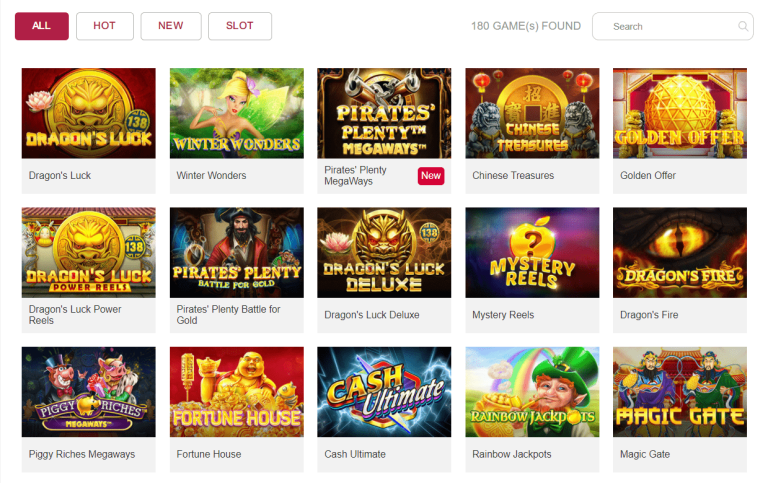 How Red Tiger Gaming Integrates With Casino
Red Tiger Gaming's website is as slick as the games it produces, with over 180 games and provides a clear indication of why the company is currently on the up. Its graphics – both on its website and in its games – are top notch, with details and richness that few of its peers can match. RTG's start button, the one that launches all of its slots, comprises a distinctive pair of in-ward facing arrows.
The symbol also materializes on the company's website; click it and a series of USPs spin into view like reels on a slot machine. It's a neat touch and one that is typical of RTG design. The company is based in the Isle of Man, incidentally and operates under licenses issued by the UK Gambling Commission and Isle of Man Gambling Supervision Commission.
More than anything, RTG claims to have a deep understanding of player psychology and it is this insight that makes its games so valuable to casinos. Its games can be found in online casinos registered in territories across the globe. Many of them are played for high stakes with VIP the target of RTG HD's slots.
Red Tiger Gaming Software Features
When it comes to their software, there are over 90 titles to choose from. RTG has both video slots and table games for you to choose from. RTG has both video slots and table games in their selection. There are only four table games to choose from – European Roulette, Dead or No Deal Blackjack, classic blackjack and baccarat. However, what made RTG vastly popular is their superbly well-designed video slots.
Their team of gambling experts, mathematicians, audio engineers and software developers has created some of the best-looking video slots on the market. They are easily recognizable by the easy-to-use user interface, flawless animation, and outstanding graphics. Every game use HTML-5 technology in order to achieve flawless performance regardless of the device your players are using.
Red Tiger Gaming Progressive Jackpots
Red Tiger's Daily Drop and Must Drop progressive jackpots have made a serious splash in the online casino landscape. In fact, they have proven so popular that many online casino operators have chosen to create lobbies specifically for games equipped with these additional features.
1. What is the Red Tiger Gaming's Daily Drop and Must Drop Jackpots?
These jackpots are hooked up to the studio's most popular slot games and must payout before a set time every day. As the countdown clock ticks closer to the deadline, the progressive jackpots increase in size along with the chance that it will provide one extremely lucky player with a life-changing prize.
2. How do Daily Drop and Must Drop Jackpots work?
The Daily Drop and Must Drop jackpots work in the same way as every other progressive jackpot. A small percentage from every bet placed on every slot game that is equipped with the features will be added to the prize pool. The prize will continue to increase with every bet until it is won. The jackpot will then reset and the process will start all over again.
3. How often the jackpot will be triggered?
Landing three jackpot symbols during the base game will activate the jackpot wheel. Each section of the jackpot wheel will represent a different jackpot on offer, which will all be visible in the box on the left-hand side of the screen. The wheel will then spin and the section will land to determine the prize that is triggered.
Popular Games from Red Tiger Gaming
Gonzo's Quest Megaways is RTG take on the framed NetEnt slot Gonzo's Quest. This time, Red Tiger equipped it with a 6×7 playing grid and up to 117,649 MegaWays. It is a highly volatile game where you can win a max payout worth 20,000x times your bet, free spins, up to 15x multipliers and many other exciting bonuses. It is an online slot, as one of the first games to introduce cascading reels and increasing multipliers. Those features are no widely available in slots across the web while the original Gonzo's slot has remained one of the most popular games around.
Reel King Mega is another instalment of the framed Astra Games' Reel King slot, only this time, the game is packed with many more bonuses and special features. The playing grid features five reels with three rows of symbols and 20 pay lines that can produce a maximum payout worth 500x times your bet. With the help of the Reel King feature, you will get special free spins with guaranteed wins.
Reel King Mega has a classic theme. It's designed to look like the kind of fruit machine that you would find in a pub, and its certainly does succeed in that respect. Even with its retro look, the slot features vibrant graphics that look great on mobile and desktop devices.
Lion's Hoard is visually one of the most compelling RTG. You will be playing in a vast cavern filled with gold, the slot brings out several wild symbols that can merge to cover the entire reels, scatters that activate multipliers, and many more exciting features. The game' max win is set 7,150x times your bet. The king of beasts welcomes you to the Lion's Hoard, from untold ages comes the treasure of a lifetime, full of diamonds, golden crowns and ruby hearts. Set in a golden hall, you have the chance to be a warrior and brave ancient mysteries to get the lion's treasure.
Frequently Asked Question (FAQ)